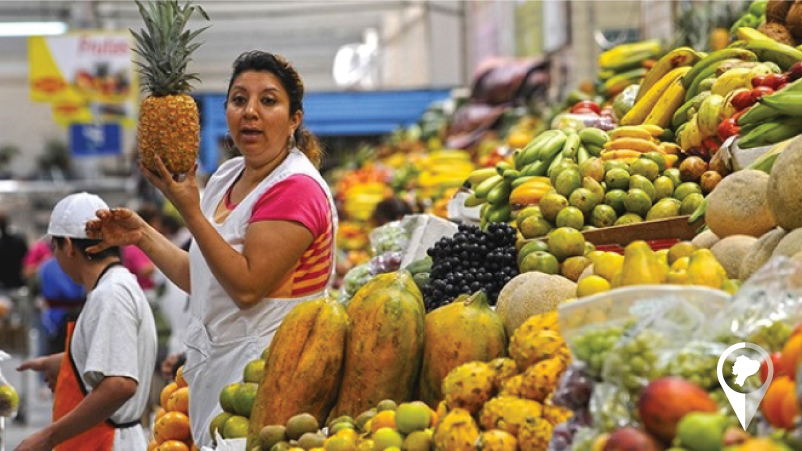 Quito Experience Tour
During this tour you will go off the beaten path and you will see Quito from a local perspective and get to experience daily life in Quito! Pick up from your hotel. We drive to the Iñaquito local market where we will be able to see the huge diversity of tropical fruits, vegetables, grains, medicinal plants and local food stalls. At these food stalls you will get to see all kind of local dishes like "fritada" (fried pork) or delicious juices made of blackberry, guanábana and tamarillo. If you want you can try the different tropical fruits! After this interesting visit we continue to one of the oldest bakeries of Quito. They are most known for their "quesadillas" and you will be able to try them. Afterwards we will visit a small family owned confectionary where they make the delicious traditional sweets of Quito. They will show us how they make the sweets and of course we can taste these delicacies as well! We end this amazing tour with a cooking class where we will learn how to make an Ecuadorian dish!
- The Quito Experience Tour is only available from Monday to Friday.
Traditional Quito City Tour & Middle of the World
From your hotel we drive to the Old Town of Quito. We will start our walk at the Plaza Grande where we will see the Presidential Palace, the main Cathedral, and the Independence monument. Than we continue to visit the Sagrario church and one of the most beautiful churches in Latin America, the Compañía de Jesus church, which façade is carved entirely out of volcanic stone and its interior is completely decorated with gold leaf.
- Next visit is Plaza Santo Domingo from where we walk through one of the oldest and most historical streets in Quito: La Ronda. La Ronda is like walking into eighteenth century Quito. We will end our walk at Plaza San Francisco where we will visit the San Francisco church, which is the oldest church of Quito (1534). Drive to Panecillo hill where we can see the statue of the Virgin of Quito and a spectacular view of the city. Than we continue to the Equator, which is located 20 km north of Quito. We will visit the Inti Ñan museum where we will learn interesting facts and experiments which are only applicable at the Equator, like balancing an egg on a nail and we will observe the Coriolis forces. After this exciting day we return to your hotel.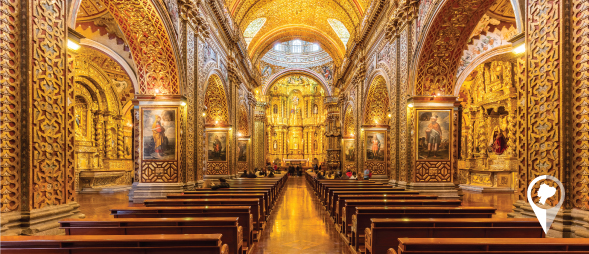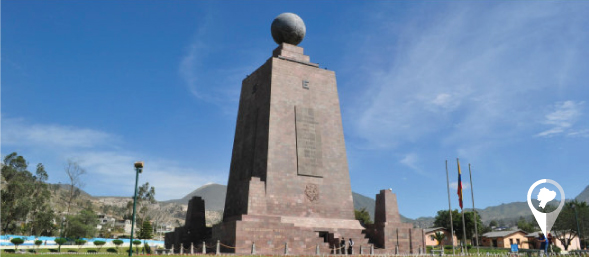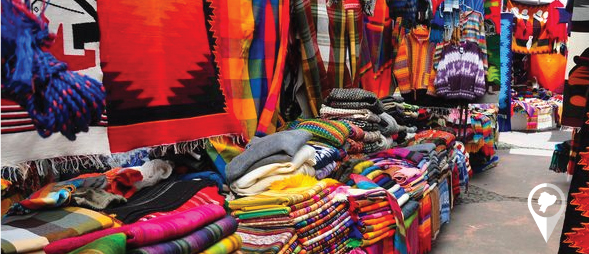 Full Day Tour Otavalo
Your guide will pick you up from your hotel. Our first stop is at Guayllabamba village where we will try the "chirimoya", which is a local fruit. Than we continue to Cayambe, here you will be able to try the local cheese and bizcochos biscuits. Once we reach Imbabura province we drive to Agato, where we will see master weaver Miguel Andrango. He makes traditional weavings on a back strap loom using handspun wool and natural dyes and products.
- After this interesting visit we will continue to the famous Indian Market, which is known for its handicrafts, tapestries and textiles. Here you have time to wander around and buy some souvenirs. In the afternoon you can choose between a visit to Cotacachi village, which is known for its leather products, and a visit to the Peguche waterfall. The Peguche waterfall is a sacred place for the indigenous people. In the afternoon we drive back to Quito.
Full Day Tour Mindo
Pick up from your hotel. Mindo is a laid back village located in the cloud forest. Upon arrival we first take a chocolate tour where we can see how chocolate is being made and of course we can taste some chocolate as well! Afterwards it is time for ziplining! We will take you on a journey of 3500 m throughout the canopy. The different lines are connected by short walking trails. You are accompanied by experienced guides using the best equipment to offer safety and adrenaline during the canopy tour.
Before we return to Quito we also will visit the butterfly farm. Here you can see the process of metamorphosis of butterflies and even feed butterflies on your hands!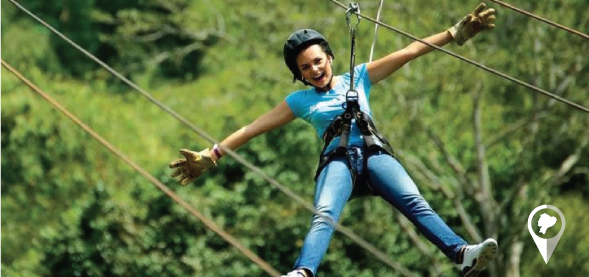 Full Day Tour Cloud Forest (bird watching)
From your hotel we start our drive to the cloud forest. On the way we will be able to see beautiful orchids and bromeliads. At the cloud forest reserve we will watch 10-15 species of hummingbirds at the feeders; including the Collared Inca, the Purple-throated Woodstar, Andean Emerald, Tawny Bellied Hermit and the Booted Racket-tail. We will hike among the trails of the reserve and learn about its ecosystem, flora and fauna.
This area is part of the Chocó bioregion, Andean hotspot for biodiversity, and the reserve is set in an area that is known to have more than 330 species of birds. Other bird species which are also common here: Pearled Treerunner, Dusky Bush Tanager or the Toucan Barbet. We will have lunch at the reserve. In the afternoon we drive back to Quito.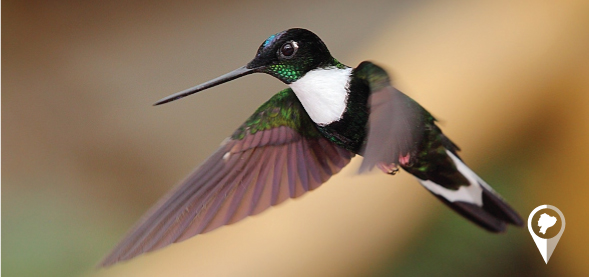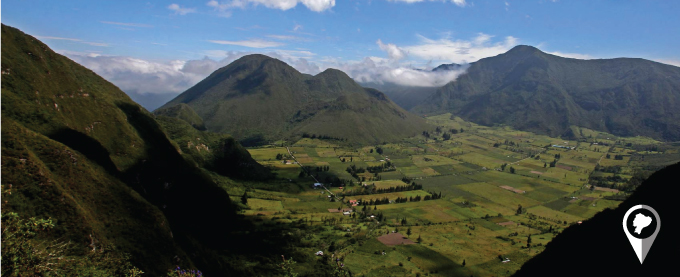 Pululahua Reserve Horseback Riding Tour
From your hotel we drive to the ranch located inside the Pululahua Reserve. From the ranch, robust and amiable mountain horses will take us through the stunning landscape of this ancient volcanic crater - the biggest one on the whole American continent and one of only two inhabited craters in the world - with its constantly changing sceneries and huge biodiversity. While circling the central lava cone, we witness volcanic history and nature, interesting geological formations, mineral avalanches blooming with wild orchids and traditional Andean agriculture.
We will ride about 4 hours and we will have a box lunch with panoramic view over valleys and cloud forest covered mountains. This tour is for both beginners and experienced riders. After this exciting day we return to your hotel.


Cayambe Volcano Horseback Riding Tour
This horseback riding tour is the perfect way to enjoy the stunning Cayambe Volcano. From your hotel we drive 1.5 hours to the ranch, located on Loma Larga hill with a spectacular view over Fuya Fuya, Imbabura, Cayambe city and of course the Cayambe Volcano. From here we start a 4 hour horseback riding tour through beautiful Andean landscapes.
The horses are well-trained and are ideal for beginners and experienced riders. All tours begin matching horses to riders, followed by a training session which will allow you to become accustomed to the trained, thoroughbred horses and to pick up basic riding tips.
Full Day Tour Antisana Reserve
Pick up from your hotel. Today we will visit the Antisana Reserve; the Antisana Volcano is the fourth in altitude in Ecuador (5758m). Once we enter the reserve we stop at a huge wall of cliffs, where condors can be seen fairly regularly, as they breed here. When we are lucky we will see them near the highest peaks. In the paramo area (at about 3500m) we make several stops to walk and observe the beautiful paramo vegetation; yellow composites, gentians, red Indian paintbrush, and chuquiraguas.
We also will be able to see a number of birds such as the highly endangered Black-headed Ibis, Cinereous Conebill, Andean Teal, Andean Lapwing, and many Caranculated Caracaras. In the afternoon we drive back to Quito.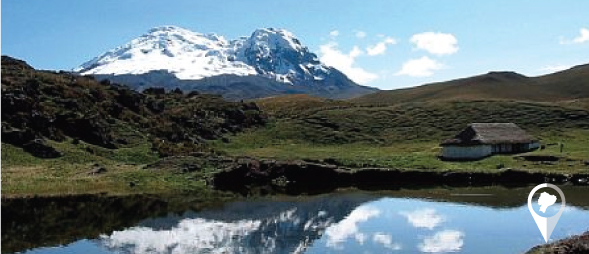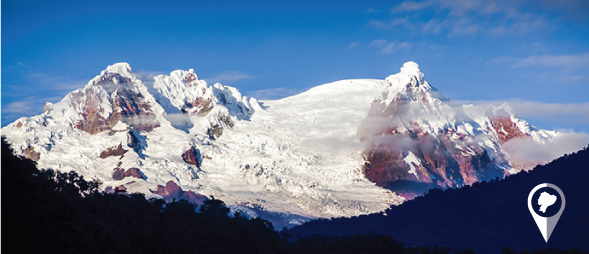 Full Day Tour Quilotoa Crater Lake
Pick up from your hotel. We drive through the Avenue of Volcanoes towards the beautiful turquoise Quilotoa Crater Lake. We will make a stop in Tigua, where we will visit the painting workshop of Alfredo Toaquiza; one of the Indian artists from the region who paints the colorful Tigua paintings on sheep skin. There are also two interesting local markets in this area; on Saturdays we can visit the local market in Zumbahua and on Sundays the local market in Pujili. Here we will see the huge diversity of tropical fruits, vegetables, grains and medicinal plants. Upon arrival to the Quilotoa Crater Lake (altitude of 3800 m), you have the opportunity to hike into the crater to the lake, which because of the altitude is a great but challenging walk. Return to Quito.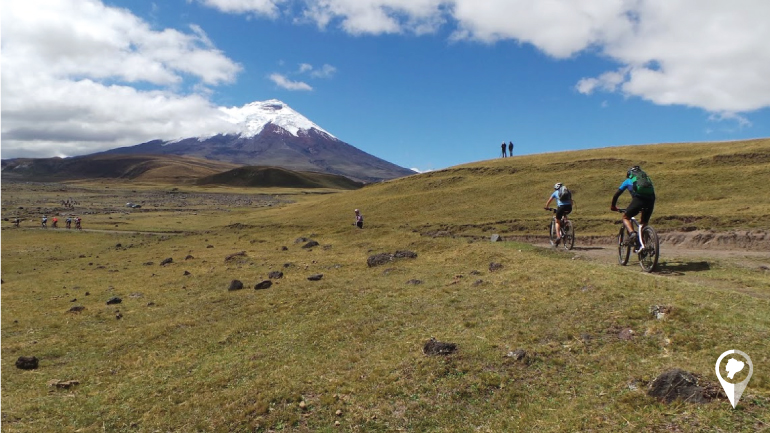 Full Day Tour Cotopaxi National Park
From your hotel we drive south through the Pan-American Highway, also called Avenue of Volcanoes, to the entrance of the Cotopaxi National Park. Cotopaxi Volcano is the highest active volcano in the world (5897m) and second highest mountain in Ecuador.
Once we enter the National Park we drive to Limpiopungo Lake where we can observe Andean birds like Andean gulls and speckled teals. We will hike and learn about the flora and fauna of this unique paramo area. Afterwards we can have lunch at a beautiful hacienda before driving back to Quito.
Full Day Tour Papallacta Hot Springs
Your guide will pick you up from your hotel. We drive through beautiful landscapes to the Papallacta Hot Springs. We start with a hike, where you can appreciate the local flora and fauna. In this area you can find more than 160 different species of birds, including hummingbirds, tanagers, and occasionally the Andean Condor. Afterwards you can bath and relax in the hot springs. There are different pools of varying temperatures heated by the nearby Antisana Volcano.