This is your chance to discover the amazing underwater world of the Galapagos Marine Reserve, rated as one of the top dive destinations in the world! Don´t miss the opportunity to dive with Galapagos sharks, white-tip reef sharks, manta rays, eagle rays or even hammerhead sharks!!! The Galapagos has a lot of different dive sites, for beginners and experienced divers. Diving in Galapagos is possible either on board of a life aboard diving cruise or doing diving day tours while based at a hotel.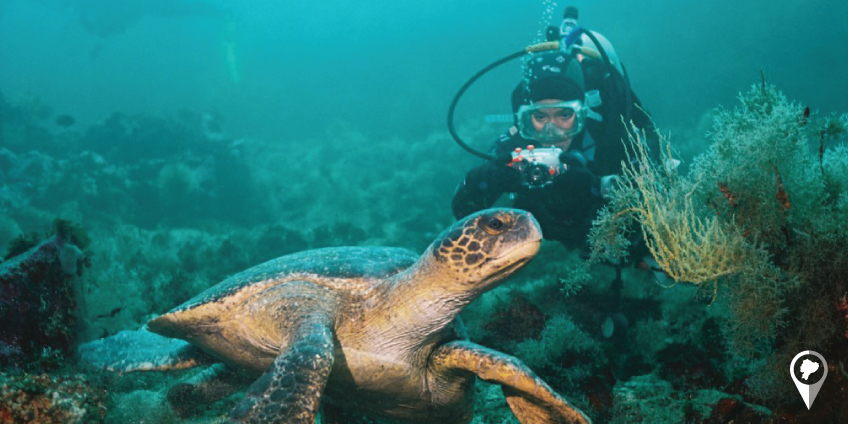 Gordon Rocks
(minimum 30 dives)
Gordon Rocks is located at the east coast of Santa Cruz. Gordon Rocks is a cone shaped tuff formation and is a world famous dive site and one of the best dive sites in Galapagos.
However, this site is only suitable for experienced divers as currents and surge are mostly very strong and can also cause the washing machine effect. Hammerhead sharks are the main attraction. But there are also hundreds of reef fish, pelagic fish, numerous white-tip reef sharks, Galapagos sharks, marine turtles, rays and sea lions.
Bartolomé
Bartolomé is situated on the east coast of Santiago Island. It is famous for the tall leaning spike known as Pinnacle Rock which is an old tuff cone. Bartolomé has amazing scenery both on land and underwater which makes it one of the best dive sites. Its underwater world consists of interesting rock formations with overhangs, caves, and deep crevices. Currents are mild to strong depending on the time of year. Visibility is generally good in this area and rock formations are very interesting and beautiful because of all the black coral that lives on the rocks.
The marine life that can be seen in this area is the following; hammerhead sharks, white- tip reef sharks, Galapagos sharks, manta rays, eagle rays, sting rays, sea lions, marine turtles and schools of tropical fish and reef fish.
Cousins Rock
Cousins Rock is a world famous dive site for experienced divers east of Santiago, near Bartolomé. Cousins Rock is a triangular rock which rises 10 meter out of the water and consists of multilayered volcanic rock. We dive along ledges and overhangs, which take turns with steep slopes and walls. A stunning wall is covered in endemic black coral and is inhabited by invertebrates. The largest and only sea horse in the Eastern Pacific can be found here. Encounters with small schools of hammerhead sharks, Galapagos sharks, eagle and manta rays, marine turtles, large shoals of reef fish, marine turtles, white-tip reef sharks, and barracudas are possible.
Santa Fe
Santa Fe is located south of Santa Cruz. This island is a solid structure of basaltic lava rocks. The currents here are mild and it is a very good place for beginners. One of the dives there is a small cave you can swim through where colorful fish, sea lions, sting rays, eagle rays, garden eels, morays, pelagic fish, and maybe white-tip reef sharks or even hammerheads can be seen.
Plazas
The two islets, North and South Plaza are only divided by a narrow channel. Currents can be strong here. There is a large colony of sea lions here and you meet them underwater, where they play with you. Along the south shore of South Plaza there are patches of coral reef. Here you can see butterfly fish, damsel fish, wrasses, Moorish idols as well as juvenile barracudas and sharks.
The water around the northern shore of North Plaza is calmer and there are numerous crevices and caves.
North Seymour
North Seymour is situated north of Baltra. There are 4 dive sites around Seymour which are suitable for advanced and experienced divers. The majority of the time currents in this area are mild and most dives are drift dives. The underwater world is a formation of steep rocky walls, underwater mountains, crevices, and caves. Here we find the most diverse species per square meter, for example large colonies of garden eels, nudibranchs, shoals of tropical fish and sea lions. In this area hammerheads are common along with white-tip sharks and Galapagos sharks. You may also see turtles and rays.
Floreana
Floreana is situated about 50 km south of Santa Cruz and is ideal for divers of all levels. This is the best dive site to see pebble coral and the endemic black coral. The 4 dive sites Enderby, Champion, Devil´s Crown and Gardner are located in the north and west of the island and normally these sites don't have strong currents. The water temperature is mostly colder than at other dive sites for daily excursions, but therefor visibility is mostly very good. You can observe sea lions, marine turtles, sting rays, eagle rays, golden rays, endemic black coral, large shoals of reef fish, morays, garden eels, pelagic fish such as tunas and barracudas and large shoals of sardines and sometimes white-tip reef sharks.
Daphne
Daphne is located north of Baltra. The maximum depth is 30m where you can find some impressive underwater pinnacles. Here you often find eagle rays, Galapagos shark, marine turtles, barracudas and black coral. Currents here can strong depending on the time of year. This site is considered as wall dive, and it is very colorful. The marine life varies from the big animals like Galapagos sharks, hammerheads and sea lions to the small animals that live on the wall like, corals, sponges, lobsters, octopus, and nudibranchs.
Mosquera
Mosquera is a mall sand island and is situated north of Santa Cruz only a short distance away. Maximum depth for this dive site is 30m and currents are generally mild. This site is famous for the sea lions that come and play during the dive. Turtles, rays, garden eels, barracudas and tropical fish are common in this area.
Kicker Rock
This site is the best spot in San Cristobal for spotting sea turtles, eagle rays, Galapagos sharks, and if lucky, hammerhead sharks. Kicker Rock is sheer-walled tuff cone that has been eroded in half and is home to a large colony of sea birds, such as boobies and frigate birds.
The whole area and especially the west face of the rock, is exposed to moderate currents. The water at the bottom is cool and clear, and among the boulders you can expect to see a variety of wrasses, starfish, surgeonfish, and angelfish.
Sightings of large rays and turtles are common as well. But the highlight is diving with Galapagos sharks, white-tip reef sharks and hammerhead sharks!
We also have Dive Packages available including accommodation, dives and visits on the islands. You can choose the accommodation according to your budget.
Please contact us at info@enjoyingecuador.com
if you want to make your dream come true and dive in the Galapagos Islands!