Ecuador is one of the most diverse countries in the world. Because of the many different climate zones Ecuador has an incredible diversity of flora and fauna. Ecuador is home to more than 1600 bird species, double the number found in the United States and almost as many as in Brazil, a country thirty-two times larger. Ecuador also has more known orchid species (almost 4000) than any other country in the world!

During this itinerary we will take you to the best places for bird watching and wildlife observation. You will explore two ecosystems: the high paramo area and the cloud forests on the eastern and western slopes of the Andes.
Day 1: Quito – Tandayapa Lodge
We leave Quito through the off the beaten path eco-route Nono-Mindo. On the way we will be able to see beautiful orchids and bromeliads. This area, the Choco region, is home to an incredible diversity of plants and animals. The Choco region is an area with more endemic birds than anywhere else in the Americas. Over seventy bird species are found only here, and almost sixty of these have been recorded at Tandayapa Lodge and nearby sites. The lodge itself is situated in the heart of this amazingly diverse region, overlooking subtropical cloud forest in the Tandayapa valley, where 295 species have been recorded. At an elevation of 1750m, the lodge experiences a very pleasant subtropical climate, where you can watch Barbets, Tanagers, and Hummingbirds in comfort. Bird species which have been recorded in this area: Tricolored and White-winged Brush Finches, White-winged Becard, Dusky-capped Flycatcher, Blue-winged Mountain / Golden / Metallic-green Tanager, Red-headed Barbets, Crimson-rumped Toucanets, Black and Chestnut Eagle, Golden-headed Quetzal, Andean Cock-of-the-Rock, Sickle-winged Guan, Plate-billed Mountain Toucan, Toucan Barbet, Andean Emerald / Fawn-breasted / Buff-tailed Coronet / Booted-racket-tail / Violet-tailed Sylph / Purple-throated Woodstar Hummingbirds. We will hike among the trails of the reserve and learn about its ecosystem, flora and fauna. Overnight at Tandayapa Lodge.
Day 2: Tandayapa Lodge
All day birding and hiking the cloud forest trails of Tandayapa Lodge.
Day 3: Tandayapa Lodge – Quito
We will explore the surrounding area of Tandayapa. In the afternoon we drive back to Quito.
Day 4: Quito – Antisana Volcano – Guango Lodge
Early in the morning we drive towards the Antisana Reserve; the Antisana Volcano is the fourth in altitude in Ecuador (5758m). Once we enter the reserve we stop at a huge wall of cliffs, where condors can be seen fairly regularly, as they breed here. When we are lucky we will see them near the highest peaks. In the paramo area (at about 3500m) we make several stops to walk and observe the beautiful paramo vegetation; yellow composites, gentians, red Indian paintbrush, and chuquiraguas. We also will be able to see a number of birds such as the highly endangered Black-headed Ibis, Cinereous Conebill, Andean Teal, Andean Lapwing, and many Caranculated Caracaras. We stay overnight at Guango Lodge, which is located at an elevation of 2700m.
Day 5: Guango Lodge – Cabañas San Isidro
Guango Lodge is located in a zone classified as humid temperate forest, characterized by its more stunted trees (and thicker canopy), cooler climate, and different bird and plant composition. Some of the birds that we have seen regularly at Guango Lodge include Andean Guan, Gray-breasted Mountain Toucan, Turquoise Jay, Scarlet-bellied, Buff-breasted and Hooded Mountain Tanagers, Gray-hooded Bush Tanager, Black-headed, Black-capped and Black-eared Hemispingus. Guango Lodge's hummingbird feeders here attract some exciting hummers on a regular basis, some of the more noteworthy species being Mountain Velvetbreast, Sword-billed Hummingbird, Tourmaline Sunangel, Golden-breasted and Glowing Pufflegs, Mountain Avocetbill, and White-bellied and Gorgeted Woodstar. In the afternoon we continue to Cabañas San Isidro, which is located at an elevation of 2050m.
Day 6: Cabañas San Isidro
All day birding and hiking the cloud forest trails. Cabañas San Isidro - surrounded by its own 1900 hectare forest reserve - has built a reputation for being the pioneer in private conservation and birding/nature tourism on the northeast slope of the Ecuadorian Andes. Mammals are becoming increasingly rare in the neotropics - especially in the Andes - but species such as spectacled bear, mountain tapir, white-fronted capuchin, puma, jaguarundi, and even giant anteater are reported with increasing frequency on San Isidro's property. And off course there is a huge diversity of birds, like White-capped Parrot, Powerful Woodpecker, Rufous-crowned Tody Flycatcher, Pale-edged Flycatcher, Smoky Bush Tyrant, Green-and-Black Fruiteater, Inca Jay, Black-billed Peppershrike, Andean Solitaire or Saffron-crowned Tanager.
Day 7: Cabañas San Isidro – Wildsumaco Lodge
From Cabañas San Isidro we drive to Wildsumaco Lodge. Along the way we bird along the Guacamayos Ridge trail. Beautiful pristine cloud forest with dense undergrowth and bamboo, this area hosts a heap of species like Black-billed Mountain Toucan, White-capped and Grass-green Tanager, Slate-crowned Antpitta, Rufous Spinetail, Green-and-black Fruiteater and Long-tailed Antbird. In the afternoon as we drop down on the eastern side of the Guacamayos Cordillera towards the Amazon, the bird composition changes again. We will make several stops for Slaty-backed Chat Tyrant, Black-chested Fruiteater, Golden-eyed Flowerpiercer, Yellow-throated Tanager and Chestnut-bellied Thrush. We turn on to the famed Loreto road heading towards Wildsumaco, continuing to add species: White-tailed Hillstar, Cliff Flycatcher, Lemon-browed Flycatcher, Crested Oropendola, Yellow-browed Sparrow and Black-billed Thrush. Overnight at the Wildsumaco Lodge, located at an elevation of 1480m..
Day 8: Wildsumaco Lodge
All day birding and hiking the trails of Wildsumaco Lodge.
Day 9: Wildsumaco Lodge - Drive back to Quito
After lunch we drive back to Quito.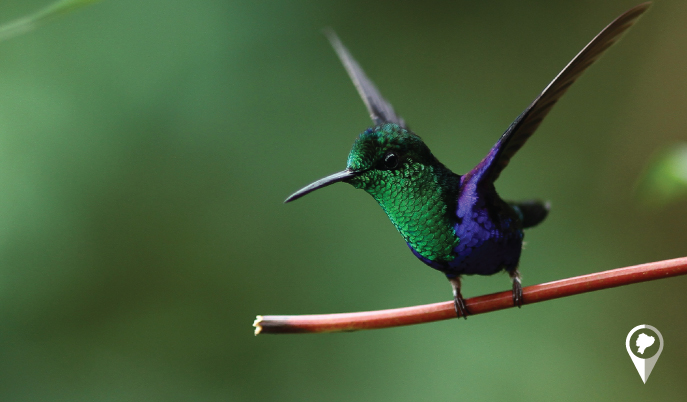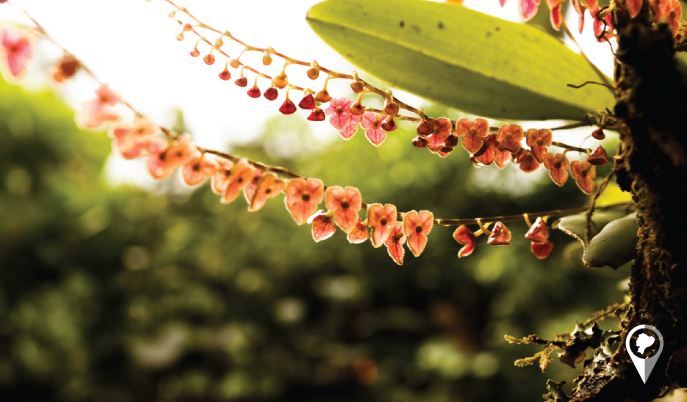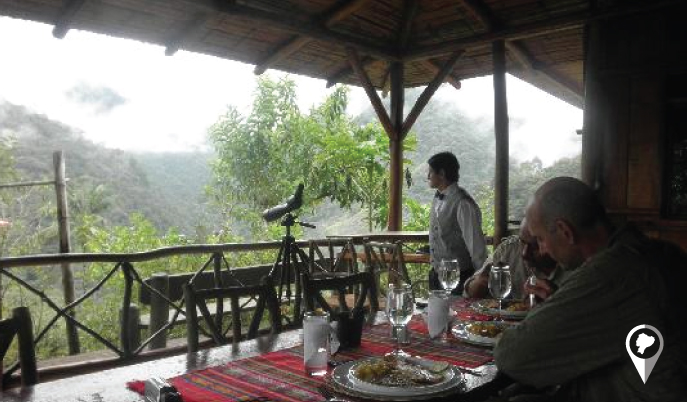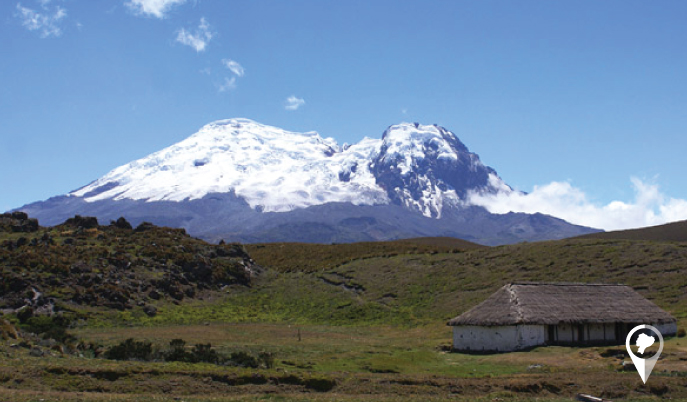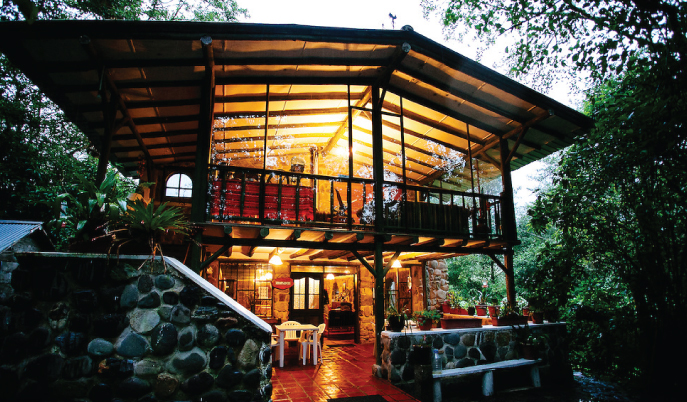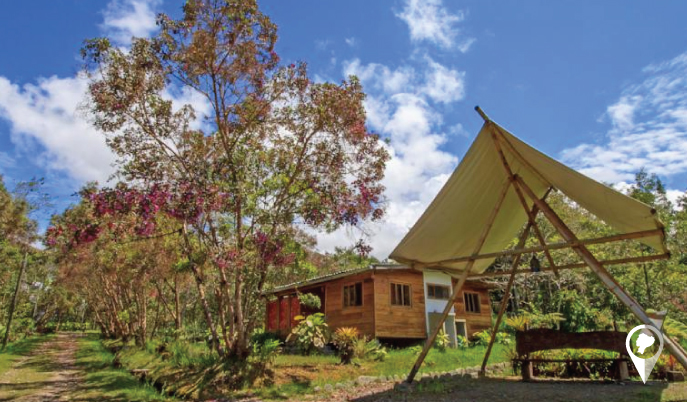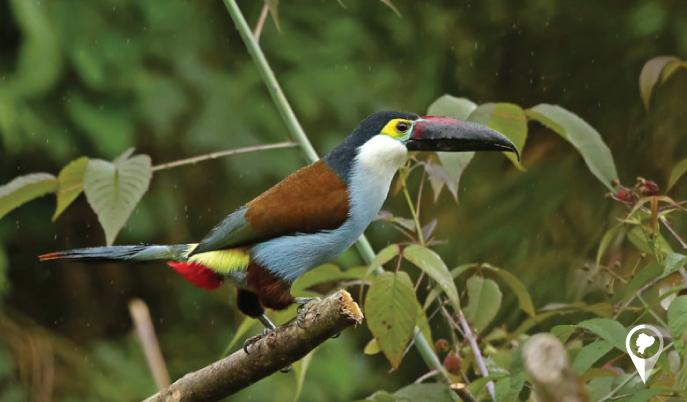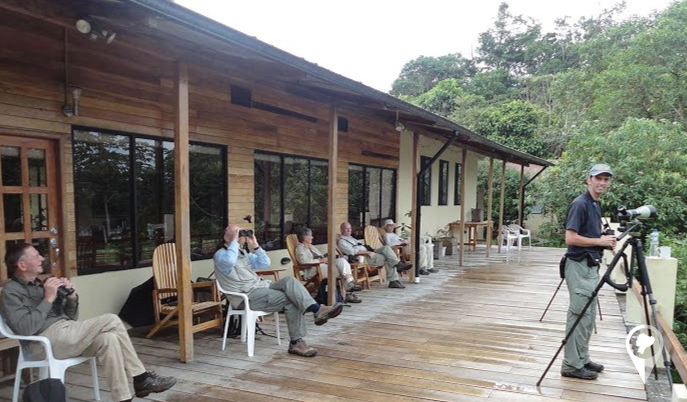 It is possible to extend this tour with a stay at Sacha Lodge, Napo Wildlife Center or Cuyabeno Reserve in the Amazon Rainforest. Another option is to add a stay at Copalinga Ecolodge, located in the southeast of Ecuador, for more bird watching.
Please contact us at info@enjoyingecuador.com
for more details about this tour