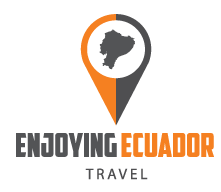 Terms and Conditions
You are booking with Enjoying Ecuador Travel. If you make a booking with us, you are subject to the following conditions. Please read these terms and conditions carefully, because by making a booking you confirm that you have read and agreed to these conditions.

1. PAYMENT AND CONFIRMATION OF YOUR BOOKING
To confirm your booking, Enjoying Ecuador Travel requires a 30% deposit of the total tour amount. Final payment is required 60 days prior departure. If your booking is made within 60 days before the start of your tour, we require full payment. If Enjoying Ecuador Travel does not receive final payment by the specified date, the company reserves the right to cancel your booking. Tickets and vouchers will never be issued unless full payment is received.
Payment options:
• Bank transfer to our Ecuadorian bank account. We charge a USD 35 surcharge to cover expenses that the bank will charge us for receiving your payment.
• PayPal, which is the only way for us to receive your credit card payment. For payments through PayPal we have to charge a surcharge of 7%. This is the amount PayPal charges us to receive your payment.
• US Bank Check. We can just accept US Bank Checks when booking is made more than 60 days before the tour, since it takes a couple of weeks before the check arrives to Ecuador and another couple of weeks before the check gets cashed.
• Western Union or MoneyGram. You can send us payments through both Western Union and MoneyGram.
• If you are already in Ecuador you can deposit the money directly in our bank account or pay in cash.

2. CANCELLATION POLICY
Cancellations have to be made in writing and will only be effective once Enjoying Ecuador Travel is in receipt of the written document.

• If the cancellation is received 91 days or more in advance of the trip, the initial 30% deposit will be refunded less a charge of USD 200.00 for administrative services and any bank costs charged to us for refunding the money.
• If the cancellation is received between 61 and 90 days before the start of the trip, the client will forfeit 100% of the initial 30% deposit.
• If the cancellation is received less than 60 days before the start of the trip, the client will forfeit 100% of the total tour amount.

Above conditions apply for all direct operated tours by Enjoying Ecuador Travel. In case of any bookings for Galapagos cruises or jungle lodges conditions may vary.

3. ALTERATIONS
Enjoying Ecuador Travel reserves the right to cancel or modify the tour itinerary due to force majeure or acts of providence such as war, internal commotion, strikes, riots, terrorist activity, natural disasters, public authority decisions, or any other extreme circumstances. Enjoying Ecuador Travel can never be held responsible and will not refund in case of force majeure or any other circumstances beyond the company's control.

4. INSURANCE
Enjoying Ecuador Travel requires that the client is adequately insured against personal accidents and medical expenses during the trip to Ecuador, as well as having travel, trip cancellation and baggage insurance. No refunds will be made by the company for medical reasons, theft or loss of documents.

5. TRAVEL DOCUMENTS
It is the responsibility of the client to have all travel documents, passport, visas, vaccination certificates in order.

6. INFORMATION PROVIDED
All information provided by Enjoying Ecuador Travel is given in good faith and is based on the latest information available at the date of publication. Enjoying Ecuador Travel will not be responsible for itinerary changes of tours which are not directly operated by our company.
We reserve the right to change the price of a tour without prior notice in the event of any price increase beyond our control such as fuel surcharges, changes to government taxes, and changes to published flight prices.

7. JURISDICTION
All matters concerning the booking shall be subjected to Ecuadorian law.